Compostable Coffee Cups Biodegradable and Made in the UK
We manufacture our biodegradable compostable coffee cups cups in-house, right here in the heart of Hampshire – just a stones throw away from the south coast, the Midlands and London…
Which means not only are our cups compostable and biodegradable (including the glue and ink) but we keep our carbon footprint to the minimum when obtaining materials and when delivering the final cups to you (especially if we supply them alongside your coffee beans order and any of the other complimentary products we supply to you!).
Available in 8oz, 12oz and 16oz. Lids also available.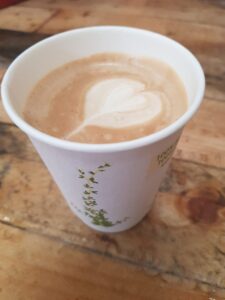 Own Brand Compostable Coffee Cups
If you are looking for compostable coffee cups with your own logo and message, we can produce those too !
We have a growing selection of companies that we have produced own-brand coffee cups for, including one of the largest Government organisations in the UK alongside many small independent coffee shops !
Come and see our cup making machine in action and discuss your requirements !